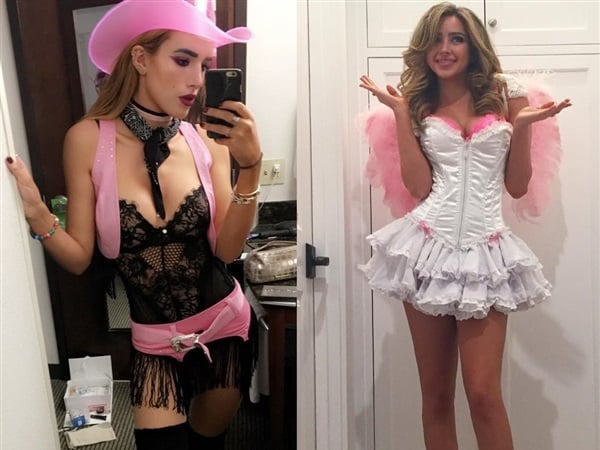 ---
Former Disney stars Bella Thorne and Ryan Newman show off their tight teen bodies in slutty Halloween costumes in the photos below.
These Bella Thorne and Ryan Newman Halloween pictures perfectly illustrate the struggle between good and evil. For Bella personifies evil, as her angular face makes her look like a tranny while dressed up as a cowgirl in lingerie and then as a Devil demon cheerleader in the pics below.
Ryan Newman on the other hand has a soft feminine angelic face, as she fittingly dresses up as a scandalous angel in the photos below. Even though Ryan's costume shows a blasphemous amount of sinful female flesh it is halal, for she is clearly portraying one of the 72 virgin concubines that awaits all Muslims who are brave enough to wear the martyr vest. A fact that will no doubt result in potential martyrs eagerly lining up out the door at recruitment centers in Mosques from Riyadh to Mosul.