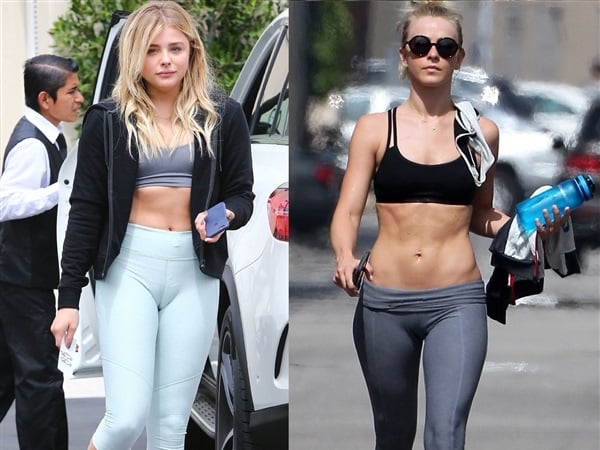 ---
19-year-old actress Chloe Grace Moretz faces off against actress and dancer Julianne Hough in a post-workout spandex camel toe battle.
First up we have Chloe Moretz who is fast becoming the queen of camel toe, as her thick saggy pussy lips seem to be clearly visible any time she puts on an even remotely tight pair of pants. Of course when she is spandex tights like in the photos below, the extremely sickening sight of her engorged lady mound comes into full focus
Next up we have Julianne Hough who (as you can see in the photos below) is considerably more tight then Chloe in both her abdominals and loins.
Julianne's modest mound and camel toe could be attributed to her Mormon upbringing instilling in her a sense of morality, or the fact that she fake dated closeted homoqueer Ryan Seacrest for many years. Regardless of the reason it is clear from these photos that Chloe has already been rode hard and put up wet many more times then Julianne, and that this wanton debauchery has resulted in Chloe's sloppy piss flaps forming a much more pronounced camel toe.