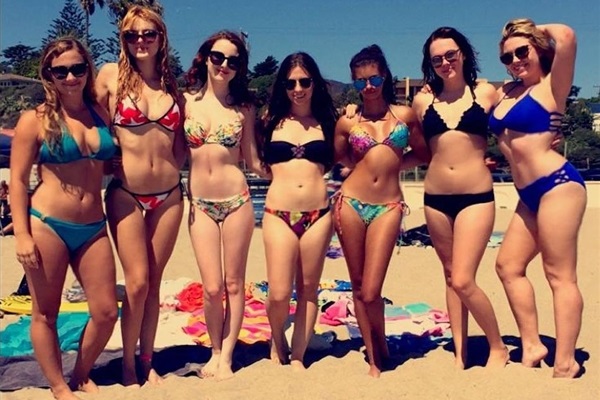 ---
As you can see in the bikini pics below, it certainly pays to follow 17-year-old actress Bella Thorne on social media apps like Instagram and Snapchat. For not only does Bella constantly provide a treasure trove of slutty photos to be used against her in her inevitable Sharia court morality trial, but sometimes she also gives us a look at up-and-coming talent.
The third girl from the right in the photo above is Bella's friend Olivia Grace, and she is clearly a star in the making. Of course by "star" I mean potential concubine for us virile Muslim men. If Olivia and Bella were to be packaged together they would certainly bring in a nice chunk of donkey meat at the Damascus slave auction.
Yes Bella Thorne's social media photos are a fine resource for evaluating the taut nubile bodies of infidel girls. Which is a pastime Muslims like myself love, but don't get an opportunity to do much of nowadays with America's oppressive laws about registered sex offenders hanging out at playgrounds and outside of schools.