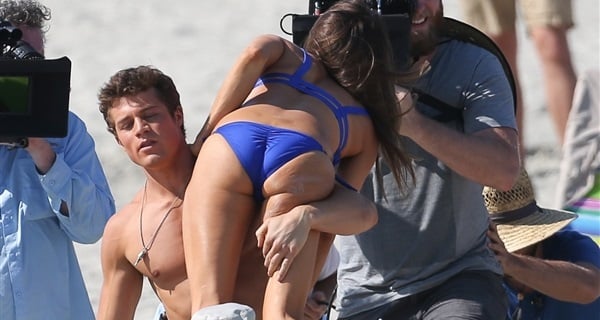 ---
"Parks and Recreation" star Aubrey Plaza shows off her surprisingly shapely ass while in a bikini on the set of her new movie "Dirty Grandpa".
As you can see from the photos below, in this film Aubrey plays a tan whore who infects a young man with lustful djinns causing him to pick her up and carry her off for a vigorous session of forced sex. Of course making a man degrade himself with rape wasn't bad enough for Aubrey's character, as she then gets her grandpa (played by Robert De Niro) to rub the young man's spunk all over her body.
Corrupting men's minds with her sinful feminine flesh in a bikini is one thing, but Aubrey's character disrespecting her elders is completely unacceptable. While it is certainly halal for Aubrey to have her grandpa touch her body, it is down right rude that she does not also let him examine her lady hole. How is he supposed to seek compensation from this young man's family if he can not ascertain the current elasticity of her vagina after its most recent banging? This is certainly a glaring plot hole that this film will fail to resolve, leaving moviegoers feeling utterly unfulfilled.