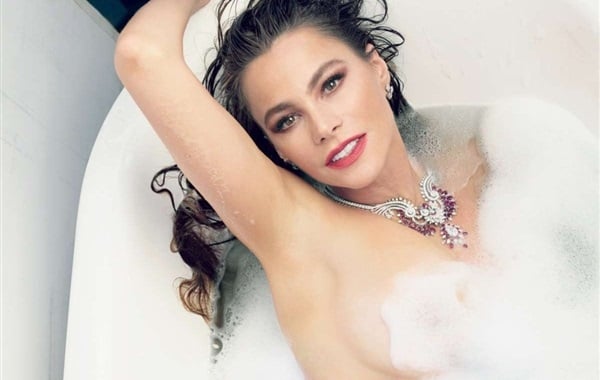 ---
"Modern Family" star Sofia Vergara poses nude in a bathtub for the new issue of Vanity Fair.
It is about time someone hosed off this dirty skank, as she has been stinky up the place ever since she snuck across the border from her homeland in the Mexican nation of Colombia with a half a kilo of cocaine stuffed up her anus. Of course this Sofia Vergara soapy nude photo is a quite literal representation of the term "a whore's bath", and just goes to show that with a little soap and water the world's trashiest women can find new life in America.
Yes only in the degenerate US of A could a worn out old third world prostitute like Sofia become a sex symbol. In any civilized country Sofia Vergara would be on her hands and knees scrubbing that bathtub while simultaneously sucking off her master to earn her daily ration of rice and beans. She certainly would not be laying around teasingly showing off her weathered flesh in photos like the ones below.