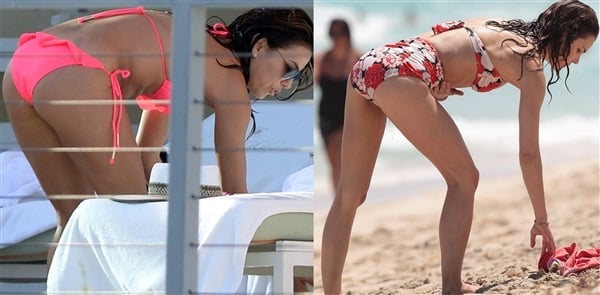 ---
Actresses and old ladies Eva Longoria and Keri Russell show off their dilapidated bodies in bikinis while in Miami, Florida in the photos below.
Clearly Eva and Keri are in Miami to audition for a remake of the hit 1980's TV show "The Golden Girls". For both of these skanky senior citizens would be the perfect fit to play the role of the insatiably lecherous old whore Blanche Devereaux, who (on the show) spent more time on her back getting picked over in South Florida's retirement communities than a bingo card. However, at 40-years-old and with such a small stature, Eva Longoria might be even better suited to play the part of the sassy old grandma Sophia Petrillo.
However, the final casting for the show works out, it is clear from these bikini photos below that Eva Longoria and Keri Russell are cougars on the prowl unashamed of flaunting their worn out sex organs in bikinis no matter how grotesque they look. Seeing these photos really makes me appreciate my own grandmother back in Kandahar who spends her days quietly working for the Jihad, knitting martyr vests for the Taliban.