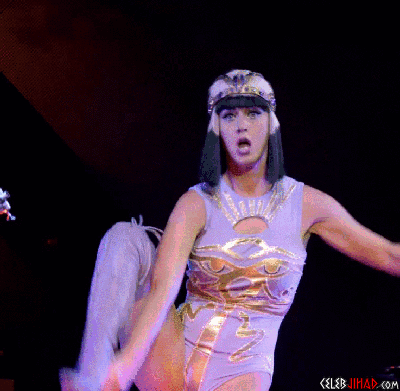 ---
As you can see in the GIF above, Katy Perry lifts up her leg and expels a gust of rancid hot air from her banged out vagina (known as a queef) to the tune of her hit song "Firework".
The depraved infidel crowd went wild over Katy's genital acoustics, with nearly everyone in attendance agreeing that Katy's queef sounded much better than her actual voice. "Not only was the queef more melodies, but the smell of stale black guy splooge was intoxicating" said typical Katy Perry fan Kevin Featherbottom.
No word yet if Katy Perry's concert queef was a one time deal, or the start of a new stage show in which she rhythmically blasts gas from her lower orifices. Who knows maybe this will be a queef heard round the world, and the start of a whole new trend in infidel pop music in which all these whore "artists" use their loose lady holes and sphincters to perform their songs. Frankly it couldn't sound any worse.