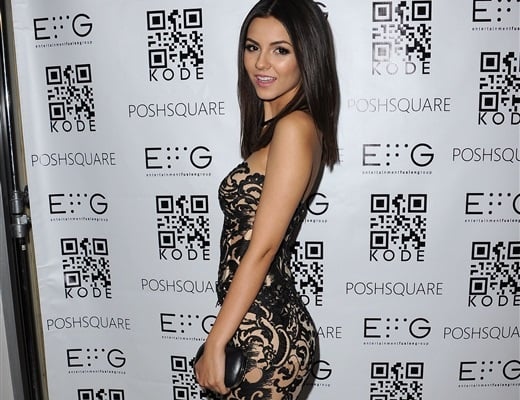 ---
Victoria Justice flaunts her tight booty and sinfully feminine profile while in a sheer jumpsuit at the release party for her cover issue of Kode magazine.
Finally Victoria Justice is starting to dress like the whore us Muslims always knew that she was. This change is no doubt a direct result of Victoria's nude cell phone pictures leaking during "The Fappening", as she could no longer sustain her "innocent good girl" image and must now embrace her true depraved nature.
Yes Victoria Justice whoring her tight body in sheer jumpsuits in the photos below is just the beginning. Expect Victoria to become even more brazen with her outfits as the last remnants of her once pristine public persona wash away in a sea of her innate immorality. In fact, in a year's time I wouldn't be at all surprised to see Victoria showing up to events with her meaty piss flaps out dangling for all to see.