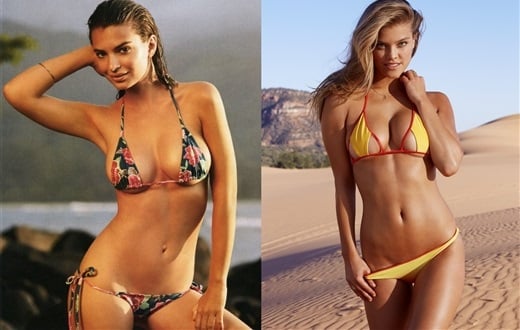 ---
With former Sports Illustrated swimsuit issue queen Kate Upton being put out to pasture (quite literally as she has ballooned up to the size of a Holstein cow), models Emily Ratajkowski and Nina Agdal are the clear favorites to take her spot atop the SI bikini heap.
With so much at stake, both Emily and Nina certainly should have held nothing back, and as you can see in the photos below they did not disappoint with Emily Ratajkowski's effort being the first up.
That was certainly a strong showing from Emily Ratajkowski, but if anyone could answer her it would be the Danish sensation Nina Agdal. Let us take at gander at her offering from this year's issue in the photos below.
As you can see Nina certainly rose to the challenge, and put up what was perhaps her best ever Sports Illustrated swimsuit showing. However, with Emily still riding the buzz from getting her bare titties motorboated by Ben Affleck in the Oscar nominated movie "Gone Girl", it will be difficult for Nina to capture the spotlight from Emily this year… unless of course she can get Matt Damon to suckle on her breasts real quick.