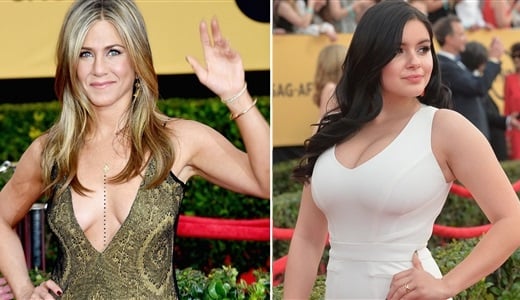 ---
There is an old saying in the Islamic world that goes, "Out with the old and in with the new". Nowhere are these wise words more applicable then with women, but in the backwards West they not only keep their old garbage women they f*ck and marry them as well.
The idiocy of this practice was perfectly illustrated yesterday at the Screen Actors Guild Awards in Los Angeles, as weathered old shrew Jennifer Aniston and 16-year-old "Modern Family" star Ariel Winter both put their breasts on display.
As you can see in the photos below, Jennifer Aniston's boobs were well suited for the event (as it is called the "SAG" awards), and she no doubt won the night and took home many "Saggies" with her loose hanging chest meat.
In contrast to the Jennifer Aniston photos above look at these pics of Ariel Winter's teenage tig ol' bitties, and you tell me which woman is ripe for procreation. Clearly once again Islam is on the right path.