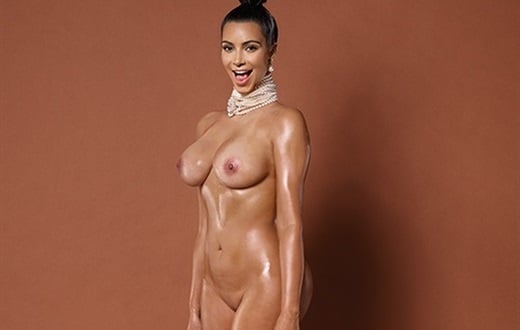 ---
More nude photos from Kim Kardashian's photo shoot with Paper magazine have just been released to the Web, and can be seen below.
Kim Kardashian reportedly did this nude photo shoot for free because she wanted to work with famed photog Jean-Paul Goude. One can easily see in these photos why Kim was so eager to work with Jean-Paul, as his base aesthetic of greasy naked women climbing out of trash bags in front of a poop brown background would certainly appeal to Kim.
However, Jean-Paul Goude missed an excellent opportunity to fully capture the essence of Kim Kardashian with this photo shoot. Though he did a decent job of portraying Kim as a mudshark whore with the nudity and by covering her in chicken grease and watermelon juice, instead of a champagne bottle laying at her feet he should have used a bottle of Colt 45, and instead of having Kim standing on a wooden box he should have used a carton KOOL menthol cigarettes… also Kim should be bent over spreading her ass cheeks while deep-throating a rapper and/or professional athlete.