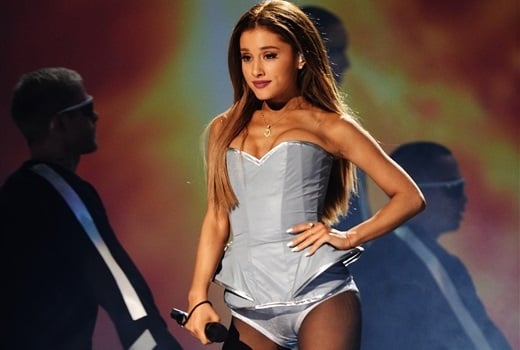 ---
After walking the red carpet in a slutty black dress, Ariana Grande thrilled her overseas fans by crapping her futuristic adult diaper while hitting a high note during her performance last night at the 2014 MTV European Music Awards in Glasgow, Scotland.
Ariana certainly knows how to pander to her audience, as live scat shows are all the rage in Europe. As you can see in the photos below, Ariana Grande's diaper appears to be quite full after she struggles and strains to pinch off a loaf while singing one of her crappy (pun intended) songs.
It really was just a matter of time before pop music brought fecophilia into the mainstream, and Ariana Grande is the perfect singer for the job as her diet consists entirely of high fiber vegetables and industrial strength laxatives so that she can maintain her waiflike appearance. No doubt audiences throughout the depraved Western world will soon be paying top dollar to watch Ariana Grande defecate while she squawks and squeals her awful songs into a microphone.