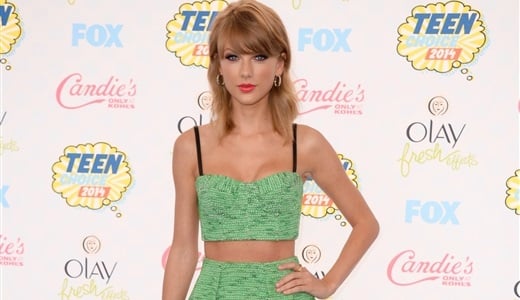 ---
The 2014 "Teen Choice Awards" were held in Los Angeles last night, and young Hollywood's top female stars turned up to role model just how slutty they are to their legions of underage fans.
Former Nickelodeon star Ariana Grande started things off by showing off her eating disorder in a short white dress while walking the red (in this case blue) carpet.
One of the few actual teens at the event, 17-year-old actress Chloe Grace Moretz flaunted her nubile body in some short shorts and a bra top. Apparently Chloe thinks that just because she has a fake French name she can prostitute her body in public like she is at the Moulin Rouge.
Nina Dobrev arrived at the awards after she had just gone done painting her house. "The Vampire Diaries" star appeared to be a woman on a mission, as the look on her face conveyed her determination to suck off at least a couple of guys in the bathroom during the show's intermission.
Kewpie Doll looking "Modern Family" star Sarah Hyland exposed her cleavage in this slutty low cut shimmering mini dress. Of course the only good thing us Muslims could say about Sarah Hyland's look is that with her hair slicked back like this she could certainly pass for a teen… boy that is.
Of course it should come as no surprise that the biggest whore of the night was none other than Taylor Swift. Not only did Taylor Swift wear this ridiculously revealing outfit exposing her torso and and long feminine legs, but she arrived at the award show with her arm draped around the waist of her latest lesbian conquest one Scarlett Cuntmuncher.
Not surprisingly Taylor Swift was also the big winner at the 2014 Teen Choice Awards. Taylor took home both the highly coveted "Best Squirter", and the equally sought after "Best Anal Fisting Performance By A Solo Artist" awards.