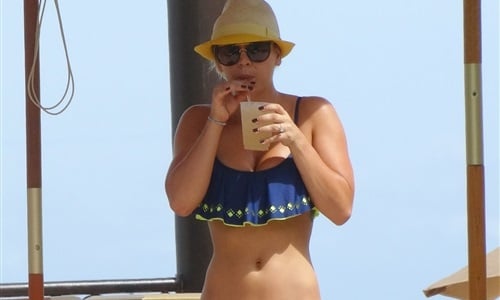 ---
"The Big Bang Theory" star Kaley Cuoco shows off her body in a bikini while drinking a cool glass of yellow Mexican water in Cabo San Lucas.
The miserly Zionists at CBS must not pay Kaley Cuoco much money for playing the role of a blonde bimbo whore on "The Big Bang Theory", as she appears to have had to make her bikini top out of the curtains in her kitchen. Add to that the fact that Kaley is wearing a cheap stupid looking hat and is vacationing in a 3rd world shithole like Mexico, and it is safe to assume that she is hurting for money.
However, there is hope for Kaley Cuoco as she has received a generous financial offer to star in the Muslim version of "The Big Bang Theory". On the show the theory that our massive hairy Muslim nuts bouncing against Kaley's ass will make a bigger bang then our righteous stones smacking against her head will be tested. Needless to say it will certainly be more entertaining than anything the American TV show has done.