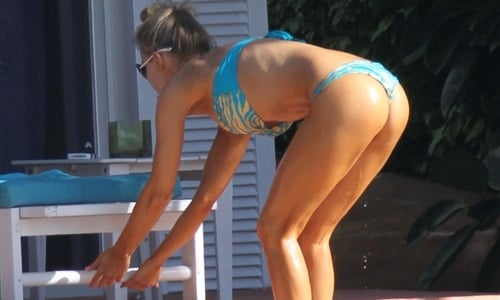 ---
When you are a D-list celebrity like model Joanna Krupa or CW star Jessica Lowndes you have to whore yourself extra hard to get attention in the degenerate West.
Unfortunately for Joanna and Jessica they both decided to slut it up in thong bikinis on the same day, resulting in a battle for the limited attention of the infidel public.
As you can see in the 2 photos below, Jessica Lowndes went with the trendy professional photo pretending it is a candid Instagram shot approach to prostitute her ass in a thong.
While Joanna Krupa went old school, and arranged with a paparazzi to be photographed from a distance while parading around in a thong in her backyard.
Both approaches definitely have their merits, but for me Jessica Lowndes is the clear winner of this thong bikini battle and thus should be stoned first.