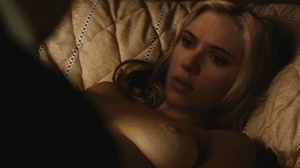 ---
It looks as though Scarlett Johansson is finally showing her breasts on the big screen in this leaked video from some crappy movie she is filming.
No doubt Scarlett Johansson is once again playing a busty slut in this film, but she is showing her range as an actress with the added dimension that this busty slut gets topless.
Now that Scarlett Johnansson has shown that she has the talent to play both a clothed and unclothed bosomy whore, she will certainly be on the fast track to superstardom in degenerate heathen Hollywood.