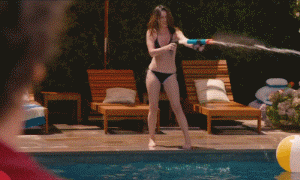 ---
Megan Fox brazenly flaunts her post-pregnancy body while wearing a bikini in the video above.
It is not surprising to see Megan Fox by a pool in this video, as it is a well known fact that women become more buoyant after giving birth due to all the air trapped in their stretched out cavities.
However, for Megan Fox to be a mother and still prostitute her nearly nude body in a bikini like this is unforgivable. Megan's new found buoyancy will be short lived when the first stone hits its mark and the air pours out of her rapidly sagging body like deflating balloon.