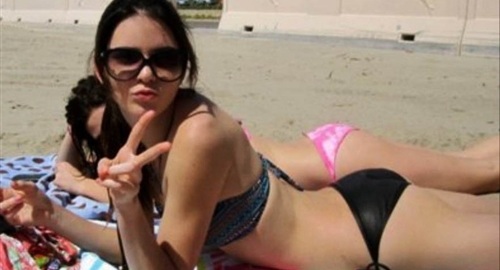 ---
It must be tough for 16-year-old Kendall Jenner to make a name for herself considering she is constantly living in the shadow of her big sister Kim Kardashian, and not just because Kim has a huge ass but also because Kim is a tremendous whore and there is nothing that infidel society reveres more than wanton sexual debauchery.
Of course Kendall Jenner is still going to give it her best shot at "being her own slut", as the bikini photo above clearly shows. However, one can not feel that this is an exercise in futility as Kim will constantly be able to out whore her. With that being said this Kendall Jenner bikini pic is quite scandalous.
If there is one thing we know about the Kardashian sisters it is that they love symbolism, and Kendall Jenner is no different as the pic above shows. First Kendall is lying on her stomach showing that she is submissive. Next she is wearing a black bikini bottom to show that her sex organs are reserved for men of color (preferably ones that are unemployed). Finally Kendall is holding up the number 2 signifying that her #2 hole is open for business.
This Kendall Jenner bikini pic proves that she is ready to continue in the family business of prostituting her body for fame and fortune. If Kendall will be able to eclipse the accomplishments in this area of her older sister Kim is yet to be seen.