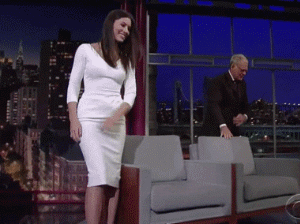 ---
Shameless harlot Jessica Biel tried to seduce David Letterman by appearing on his show wearing a skin tight white dress with her ass and nipples sticking out.
As an actress in Hollywood Jessica Biel is accustomed to having to get friendly with limp-dicked old Jews like David Letterman to further her career, so this immoral display by Biel comes as no surprise.
Of course like all Jews Letterman is a mouth breathing sissy boy who couldn't even dream of ever satisfying a woman sexually. If Jessica Biel had any smarts she would be offering herself to a powerful Muslim Sheik. Not only would he be more generous with his riches, but as a virile Muslim he would certainly give her the banging of her life.