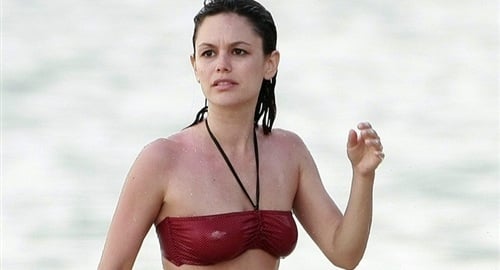 ---
Rachel Bilson has reverted to her old bad habits of running around in a bikini and dating actor Hayden Christensen.
After failing to seduce me last year with her whorish antics, Rachel Bilson decided to return her to feminine boyfriend Hayden Christensen because she is desperate to marry, and Hayden is probably her best shot at making that dream come true.
Of course Rachel Bilson is stupid and is already ruining her chances of being Hayden's dutiful wife by running around naked in a bikini in front of him. If Rachel Bilson so willingly gives up the ocular pleasures of her flesh then what incentive does Hayden have for marrying her? Not to mention he is going to start questioning her maidenhood and request a thorough exam of her maidenhead (which Rachel Bilson is not likely to pass) before agreeing to marriage.
As these new bikini pictures of Rachel Bilson prove, Rachel like most Western women does not know the first thing about landing a husband.