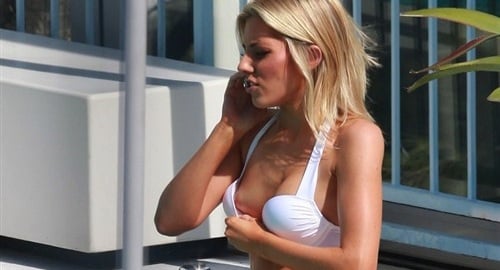 ---
Mollie King is a "pop star" and member of the British all girl band known as "The Saturdays", but more importantly she is also a whore and in clear violation of Sharia law.
As you can see in the pictures below, Mollie King has taken her Allah defying whorish behavior to an international scale by coming to America, dressing in an almost see through white bikini, and then exposing her right breast, nipple and all.
The brazenness of this wanton Jezebel, is not only insulting to Islam, but to the American whores who's territory she is invading. I wouldn't be at all surprised if a gang of American whores jumped Mollie King and drowned her in that pool for being of their "turf". Mollie King needs to learn that whores can be very territorial, and us Muslims never forget an act of sluttery. She is definitely playing with fire.