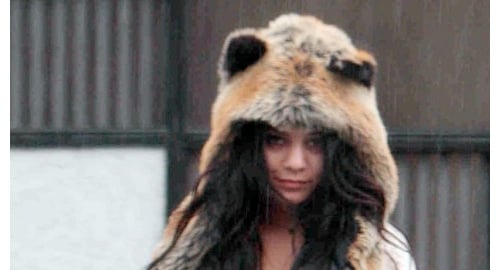 ---
Straight of fthe runways of Islamabad and onto the shores of the US, the latest middle-eastern fashions are here to stay, folks!
Vanessa Hudgens quickly scooped up this feisty little piece that, when translated from Arabic to English means "dead animal carcass to rest on child's shoulders to prolong life." Sound sexy? It is!
Stylists are literally camped out at the Port of Newark to get first crack at the other fashions that are hitting this country. Other must-have pieces for winter and spring collections include "ladies headwear to deflect stones" and "single shoe." Something tells me it's just a matter of time before we see Jake Gyllenahaal limping around Sunset Plaza in "single shoe."
For so many years, the culture and fashion of the United States have been imposed on other countries, it's nice that finally the tides have turned and that some foreign practices have started to influence America.
Allah willing, this is just the beginning. This time next year we will be celebrating the revocation of all women's drivers licenses. But don't worry about getting around ladies, for you'll be looking fabulous strutting around in "single shoe!"