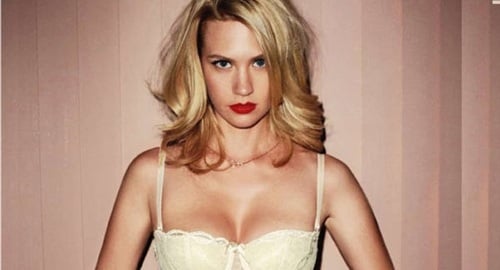 ---
January Jones is one of the stars of the AMC hit show "Mad Men". I must admit of all the infidel TV shows I have seen I think Mad Men is the best.
Mad Men reveals how dangerous feminism can be to a society. Apparently before 1950 America still had a slightly masculine and moral society. Then women started taking birth control and getting mouthy and it all went to hell.
Mad Men chronicles this decline, and know one illustrates it better than January Jones' character "Betty Draper". Betty Draper is an adulterous wife, who does not get stoned to death because of "modern ideas" about divorce that were beginning to take root in America thanks to the Zionist infiltration of the American mass media.
Yes Mad Men is a great show because it chronicles how Zionism and Feminism destroyed American, and January Jones is the picture of Aryan beauty. Enjoy these pictures of her in her underwear for some Spanish porno mag.