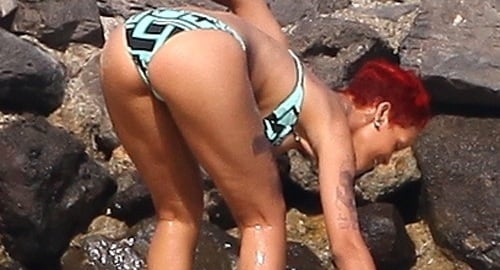 ---
Rihanna was the picture of class yesterday while at the beach in her bikini.
Appearing extremely dainty and feminine Rihanna showed off her prison tats while sipping vodka and splashing in the water. Rihanna then proceeded to stick her ass up in the air while she collected seashells. It is still open to speculation were Rihanna stored the seashells she found.
Yes Rihanna is very image of class and sophistication in the Western world as these pictures show. Boy were we Muslims wrong about women not being able to act properly when they are left to their own devices.
Sike! This article is what is known as sarcasm. Rihanna and all the other infidel women in the West are whores, deal with it!