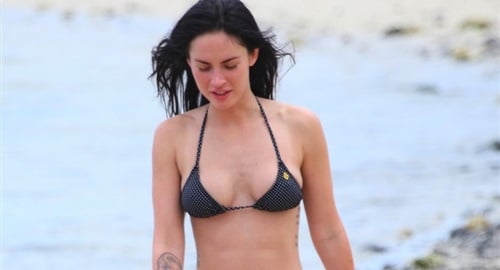 ---
After being fired from the Transformers franchise and realizing she has no discernible acting talent, Megan Fox took to the beach in a series of tiny bikinis to try to save her career.
This move by Megan Fox to show more skin is a step in the right direction. "Actresses" like Megan Fox, who couldn't act their way out of a paper bag, need to realize that in order to have a future in show biz they must sell their body to the masses, and progressively show more and more skin as their list of terrible movies pile up.
Megan Fox is showing she understands this, and for all our sakes lets hope she does because the last thing we need is another Jessica Alba on our hands.
Jessica Alba was famously prude in her hotness prime, and refused to do any sort of roles in which she could not wear her mom jeans and a turtle neck. Then her hotness was ruined by marrying some douche and having a kid. Now she is doing sexier roles, but no one cares.
I feared Megan Fox would go the same route considering she already had the douche boyfriend, but these staged pics of her in a bikini gives me hope. If she is smart we will be seeing boobies within a year and full front within the next 3 years.
Until then enjoy these pics of Megan Fox in her bikini.