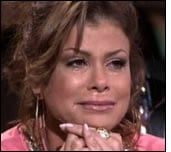 At this historic time, when the nation's first African-American President has taken office, I echo his call to change.
The channel, that is! LOL!
Seriously though. Don't watch this show. It is awful.
It really is all that's wrong with today's youth and the media and the music industry, rolled into one.
The first half consists of delusional idiots, who've been lied to all their life, being corralled into humiliating themselves on live TV, in front of an audience of millions.
Look, I understand these people bring it upon themselves and fully deserve what they have coming, but that doesn't make it any less mean-spirited. Especially considering some of them are pushing the boundaries of what the euphemism of 'mentally challenged' can cover.
I mean, there seems to be some honest-to-God, mentally retarded people up there. Seriously? This country can't do better than that?
Apparently not. Not talent-wise, anyway.
So they flock, like mice to the cheese-laden spring trap, only to have their necks snapped by the inevitable metal bar of reality.
There are no standards anymore. Give everyone a medal! Cuz gosh darnit, they tried, didn't they? "My mom says I'm talented! All my friends too!"
Are you really doing these people a favor by lying to them? This is time they could have spent applying to junior college or at least frying up some delicious burgers for an eager public to devour.
Instead, they've spent their weekend, waiting in line for the chance to be on TV. Why? Because we've told them that's the measure of success. It doesn't matter if it's because you won a spelling bee and a local reporter is interviewing you, or your face is plastered all over the news because you killed your classmates for not recognizing your talent as a singer. As long as you're on TV!
Which brings me to the second half of this crapfest. So after the terrible people are weeded out, we move on to the mediocre round where all the people who aren't good enough to get a record deal on their own come to hopefully skip over all that and start singing some bland, generic crap written for them by a committee of washed-up never-wases.
So you go and you sing your little songs and then you're told if you're good enough by a guy who played bass for Journey and Paula Abdul. FUCKING PAULA ABDUL.
The only one with even a shred of credibility is the English guy. But if you don't simply take it from the show, his bio isn't that impressive. While he might talk about hard work and getting by on talent alone, he got his start from his father's connections as a music industry executive.
But it's not where you get your start, right? It's what you do with it after that. Which is, according to Wikipedia:
Subsequently, Cowell signed up a number of acts to S-Records that made a mark in the pop music world, including Curiosity Killed the Cat, Sonia Evans, Five, Westlife, Robson & Jerome, and Ultimate Kaos. He also released several novelty recordings featuring the likes of wrestlers of the World Wrestling Federation, Teletubbies,[7] Zig and Zag and the Mighty Morphin Power Rangers, that were huge successes.[2] Cowell set up another label, Syco Records, in 2002 which later became part of Columbia Records and Sony BMG Music Entertainment. Artists such as Leona Lewis, Il Divo and contestants from The X Factor and America's Got Talent are released on Syco.
Awesome! I love Ultimate Kaos! Especially their album Nobody Has Ever Heard Of Us And Now We Work At Burger King.
Seriously. Even if you win this thing, so what? You'll be the next Daughtry? Ruben Studdard? Taylor Hicks?
I had to look those names up, because, just like everyone else, I'd already forgotten who they are.
I'm getting off track here, so let me speak directly to you, my vast fanbase of young teenage readers: please don't watch this show. It's the number one show in America. This is virtually ensuring this bullshit will be on the air for at least another 5 years.
There are better things you can do with your life, besides being a pop singer. Pretty much anything is better than that. How about a garbage man or one of those people who scrapes up dead animals on the road or even an actor?
If you won't make a conscious decision to better the world through your choices, then I am left to pray that your ever-changing fancies will shift to something else and you'll start to see this show as passe or lame or l4m3 or however you spell things this week.
Because when you do things like this, it makes everybody hate you: