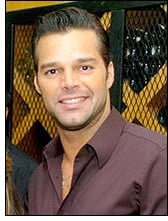 Earlier this week People Magazine reported that Latin-pop sensation "Ricky Martin Welcomes Twin Boys," and suggested that Martin had, with the help of a surrogate, fathered children.
However, in an exclusive interview with Martin's housekeeper, CelebJihad has learned that Martin is not a father, but rather a middle-aged man who welcomes twin boys into his home.
Speaking through an interpreter, Martin's housekeeper, Pedro, who unsuccessfully asked that his name not be used, confirmed that Ricky has no children, since children would involve sex with a lady.
"He just likes to have twin boys over to his house, Ranchero Neverland," said Pedro. "He always tells me to leave the back door open so these boys can come and go as they please."
Pedro went on to add that these boys are usually dropped off by Ricky's driver, Sergio, who scours local parks making promises of "empadinhas" and "the X-box."
Added Pedro, "He is no father, but I have heard the boys refer to him as daddy."